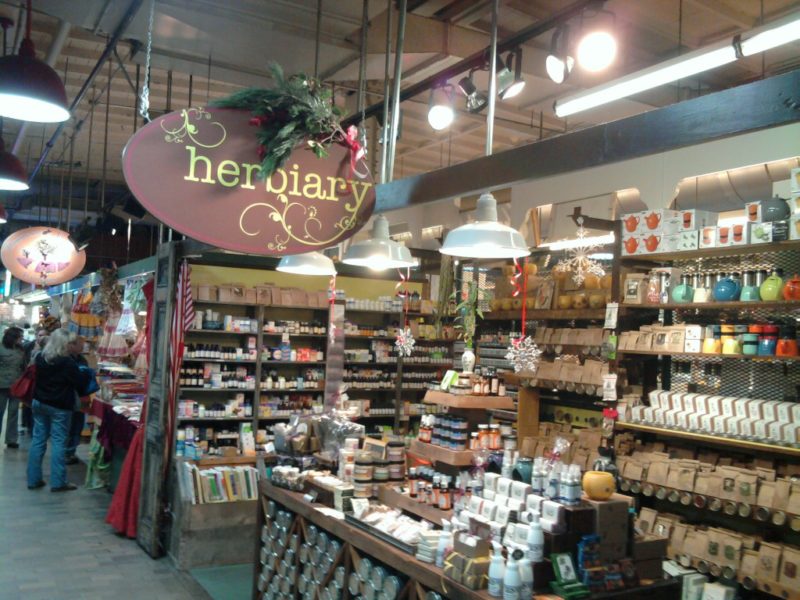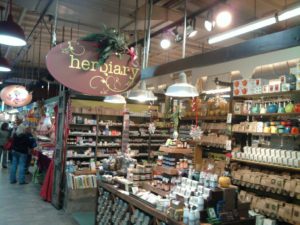 Reading Terminal
51 N. 12th Street
Philadelphia, PA 19107
215 238 9938
Asheville
29 North Market Street, Ste. 106
Asheville, NC 28801
828-552-3334
215-247-2110
www.herbiary.com
Owners: Maia Toll & Andrew Celwyn
Just walking into Herbiary is a healing experience. In the busy heart of Philadelphia, our store is an oasis for the senses. We're a bit country and a bit city, always warm and never slick. As a result, we look for the same thing in our products, choosing botanical concoctions that combine traditional wisdom and modern science, are packaged honestly, and support the health of people and the planet.
Mission Statement
At Herbiary, we believe there is a fundamental symbiotic relationship between ourselves and locally grown herbs and medicines. And we believe an enfleurage from half-way round the world can lift your spirits and soothe your soul. We love "talking" with the plants, and talking with scientists and doctors about the plants!
Herbiary seeks out the highest quality botanical products gathered and prepared in a way that honors Mother Earth.  Taking care of people and taking care of the planet are one and the same. This is why we choose eco-friendly packaging, even though it costs a bit more. Purchasing from growers and medicine-makers who choose not to use pesticides and other harmful substances. While we are not perfect, we work every day to make conscious decisions about how we do business.
What makes you unique in your community?
We try to offer the whole package to our community in terms of products, consultations, classes, and getting your hands dirty with herbs! You can stop in one of our stores for a dried herb, extract, essential oil, flower essence, book, or natural body care product. Everything we carry is either organic, wildcrafted, or cultivated without chemicals. If you need help with a problem that is beyond the scope of our staff, you can make an appointment with an herbalist. Still want to learn more? We offer classes from beginner to advanced. For those who want to get even more in touch with the herbs, come to our Mermaid's Heart Herban Garden to join with others in cultivating and developing a beautiful oasis right in Philadelphia.
What are the frequent comments that you hear from your customers?
-I can't believe you guys carry this, I've been looking all over for it.
-Do you have that thing that Dr. Oz recommended? (Only when we already carry it)
-What smells so good in here? (Everything)
-Does this stuff really work? (Yes, it does!)
What one lesson would you love the general public to learn about/from herbs?
Taking herbs is not a substitute for taking drugs. The herbs work differently, often in harmony with changes in your diet and lifestyle. So if you want a quick fix, look elsewhere. If you want to make a concerted effort to improve your life by working with herbs, we are happy to help you along that path.