Why Use Our Steam Oil?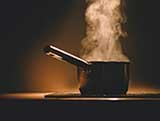 Stop Congestion from Settling in your Chest!
Our Steam Oil contains a powerful blend of essential oils to ease coughs and relieve chest & nasal congestion. It's particularly effective for those never-ending coughs.
How Essential Oils Work
For centuries, steaming over a pot of hot water has been used to loosen a tight cough and expel mucus. By adding essential oils to the water, you inhale the oil vapors allowing their unique properties to go to work in your lungs and nose.
Ravintsara – decongestant; antibacterial and antispasmodic
Niaouli – expectorant and decongestant
Eucalyptus – supports respiratory tract; decongestant; antibacterial
Dry Cough
Dry Coughs need moisture! Steaming 3-4 times a week can hydrate the throat & lungs, break-up congestion and calm a chronic cough.
*These statements have not been evaluated by the Food and Drug Administration. This product is not intended to diagnose, treat, cure or prevent disease.