How to Use Steam Oil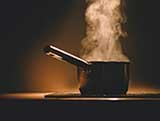 Use One of Three Ways:
Place 2-6 drops in large bowl of hot water.  Cover the head with a towel and place face over steamy water. Make sure to close your eyes! Breathe deeply, inhaling the essential oil vapors and steam.  Enjoy for 5-10 minutes. Use as needed.
Blend can be rubbed on chest for decongesting. Discontinue if irritation occurs.
Add blend to a humidifier and vaporize. This might be the best method for small children to avoid burns from steaming.
Tips:
Again, please DON'T open your eyes while steaming.
Never use more than 4 times per week for an extended period of time.
Steaming opens up your lungs and nasal passages. Please don't wander outside into cold weather and get chilled. The whole idea is to warm the chest.
If water is too hot wait until it cools down or make a tiny opening with the towel to allow some steam escape. You don't have to suffer extreme heat to have it be effective.
*These statements have not been evaluated by the FDA. This product is not intended to diagnose, treat, cure or prevent disease.