Why Use Our Aller-Ease Remedy?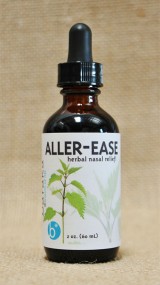 Tired of using over-the-counter medications for your allergies? Switch to an effective herbal tincture remedy that reduces nasal inflammation and congestion without the side effects of pharmaceuticals. This blend supports the immune system and it won't leave you drowsy.
How Aller-Ease Works
Taken orally, this combination of 5 time-tested herbs work together to lower allergy responses. One of the primary herbs in this remedy is nettles; yes, that "weed" you avoid when crossing a field or hiking in the forest. Nettles contain medicinal properties, known since medieval times, to reduce the body's histamine response which causes itchy eyes, nasal congestion and a scratchy throat.
Other Herbs Include:
Ambrosia –strong histamine fighter not as well-known as nettles
Chinese Skullcap  – useful as an antihistamine and anti-inflammatory
Ginger – traditionally used to reduce inflammation
Licorice – immune booster; anti-allergenic; relaxes respiratory tract
*These statements have not been evaluated by the Food and Drug Administration. This product is not intended to diagnose, treat, cure or prevent disease.