How To Use Aller-Ease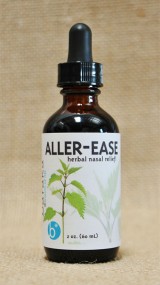 How Often Do I Take It?
We recommend  2-3 dropperful under the tongue, 3- 5 times per day, preferably on an empty stomach but not necessary. A dropperful tends to fill the glass dropper about ½ way and is equal to about 30 drops.  Keep it in your computer bag, purse, on your desk or in view on the counter. Once you get in the habit of taking it and see results, application will become a no-brainer.
Use One of the Following Ways:
Drop straight under the tongue (hold for 30 seconds before swallowing)

Add to 1 ounce of water (hold in mouth 30 seconds before swallowing)
Who Can Use It?
Most adults; not recommended for children under the age of 14 or pregnant women.
How Long Before I See Results?
It shouldn't take long; a few days or a week at the most. Remember to play around with the dosage. If 3 times a day isn't giving you the relief you need, up the dosage to 4-5 times. We're all different.
*These statements have not been evaluated by the FDA. This product is not intended to diagnose, treat, cure or prevent disease