Baraka's Community- Featured Herbal Store
Herb Stop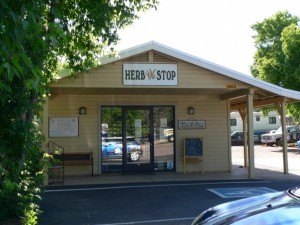 May 2013
Herb Stop
PO BOX 673 4004 N. Hwy 87 Pine, AZ 85544 928-476-4144 877-345-4372
www.HerbStopOnline.com
Founder: Leilah Breitler, Herbalist Owner: Natalie Hadju
For 21 years the Herb Stop has provide the community of Pine, AZ with high quality herbs, soaps and hand crafted goods,. As well as years of knowledge of healing with herbs.
Mission Statement
Our mission is to provide knowledge, awareness and the finest natural products to improve the quality of life through health education and herbal medicine.
What makes you unique in your community?
We are the oldest herbal company in Arizona – we opened our doors 21 years ago. We provide knowledge and education to our community as well as create natural products for beauty and radiance. Herb Stop donates to a variety of local charities and causes on a regular basis. We are PETA certified as a cruelty-free company. We practice what we preach – our founder, Leilah, is a vegetarian and survived a terminal illness using natural medicine. The owner, Natalie, is a strict soy-free and grain-free vegan. She has recovered from a myriad of digestive ailments through diet and natural therapies.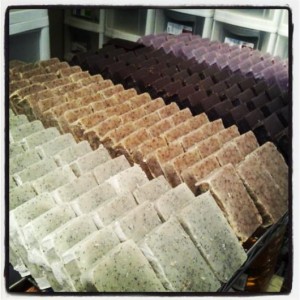 What are the frequent comments that you hear from your customers?
The most frequent statement we hear is "Thank you for being here and keeping our community healthy". The second most frequent thing we here is "What a neat store in such a small southwestern town". Generally our customers are looking for an alternative to the main stream health care options. Most often people are looking for another way to become healthy.
What one lesson would you love the general public to learn about/from herbs?
Their amazing healing power and how quickly, yet gently, they work when you have the right remedy.
Baraka's Community- Featured Herbal Store
Clary Sage Herbarium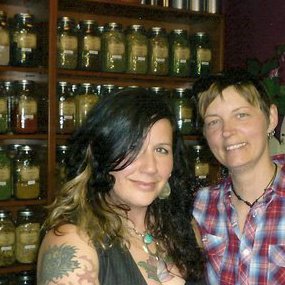 December 2012
Clary Sage Herbarium
2827 NE Alberta St. B
Portland, OR 97211
503-236-6737
http://www.clarysageherbarium.com /
Owner: Laurie Lava, Herbalist  
Since 2011, Clary Sage Herbarium has provided Portland, Oregon with a large selection of organic & ethically wild harvested herbs and tinctures.
Mission Statement
Clary Sage Herbarium's mission is to promote local awareness and offer a sacred place of physical & emotional healing that reduces the dependence on conventional medicine. We want herbs and education to inspire motivation and belief in our own inherent healing powers. We think green! We use all bio-degradable packaging materials, and do our best to support local businesses for all our purchasing needs.
What makes you unique to your community?
We promote local awareness and offer a sacred place of physical and emotional healing. We strive to keep connected to the local herbalist community, schools, naturopathic practitioners, LMT's, and acupuncturists. This allows us to offer an array of local healing resources. Additionally, we offer an ongoing discount to students in the herbal studies realm. We think green and recycle as much as possible. We buy local to help reduce our carbon footprint and support our local economy. We offer affordable and sliding scale classes on all sorts of topics including Ayurveda, perfume blending, guided meditations and medicine making.
What are frequent comments that you hear from your customers?
We often hear: "Wow! I came in feeling scattered, ungrounded and annoyed with my day but I feel so much better now, just being in here!", "This place smells amazing! The smell lured me to walk up the pathway!", "What is it I smell in here? Can I buy it?!"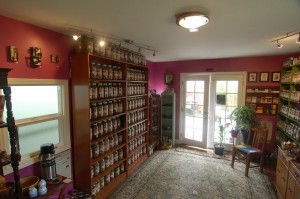 What one lesson would you like the general public to learn about from herbs?
We want herbs and education to inspire and motivate a belief in our own inherent healing powers which, in return, will reduce our dependence on conventional (allopathic) medicine.
What kind of products do you carry?
We have a large supply of organic and wild harvested medicinal herbs, a selection of culinary spices, traditional teas including Mate, Pu'erh, and Jasmine Green Tea, as well as many medicinal house tea blends with fun names like "Sweet Adrenal", "Healthy Ticker", "Not Gonna Get Me" immunity tea. We have a nice selection of house made flower essences (with an option to have it custom made), essential oils (some wild crafted and distilled right here in Portland!) as well as magical anointing oils. We carry tinctures, local artisan made-chemical free body care products, smudging feathers, incense, pendulums, smoking herbs, sage bundles, palo santo, cedar, beeswax candles, Baraka's handmade neti pots and salts, as well as their aromatherapy burners. We also stock medicine making supplies such as empty bottles and jars, bulk bee's wax, emulsifying wax, hydrosols and several varieties of clays and resins.
Do you offer mail order?
Currently, we do not have a shopping cart on our website. However, we would love to ship to you. We can take your information over the phone or email with a paypal option.
Please visit us @ clarysageherbarium.com
Baraka's Community- Featured Herbal Store
Herbiary
November 2012
Herbiary
Reading Terminal
51 N. 12th Street
Philadelphia, PA 19107
215 238 9938   Chestnut Hill
7721 Germantown Ave
Philadelphia, PA  19118
215-247-2110 http://www.herbiary.com/ Owners: Maia Toll & Andrew Celwyn     
Just walking into Herbiary is a healing experience.  In the busy heart of Philadelphia, our stores are an oasis for the senses.  We're a bit country and a bit city, always warm and never slick.  We look for the same thing in our products, choosing botanical concoctions that combine traditional wisdom and modern science, are packaged honestly, and support the health of people and the planet.
Mission Statement
At Herbiary, we believe there is a fundamental symbiotic relationship between ourselves and locally grown herbs and medicines. And we believe an enfleurage from half-way round the world can lift your spirits and soothe your soul. We love "talking" with the plants, and talking with scientists and doctors about the plants!
We seek out the highest quality botanical products gathered and prepared in a way that honors Mother Earth. We understand that taking care of people and taking care of the planet are one and the same. We choose eco-friendly packaging, even though it costs a bit more. We buy from growers and medicine-makers who choose not to use pesticides and other harmful substances.
We're not perfect, but we work every day to make conscious decisions about how we do business.
What makes you unique in your community?
We try to offer the whole package to our community in terms of products, consultations, classes, and getting your hands dirty with herbs!  You can stop in one of our stores for a dried herb, extract, essential oil, flower essence, book, or natural body care product.  Everything we carry is either organic, wildcrafted, or cultivated without chemicals.  If you need help with a problem that is beyond the scope of our staff, you can make an appointment with an herbalist.  Still want to learn more?  We offer classes from beginner to advanced.  For those who want to get even more in touch with the herbs, come to our Mermaid's Heart Herban Garden to join with others in cultivating and developing a beautiful oasis right in Philadelphia.
What are the frequent comments that you hear from your customers?
-I can't believe you guys carry this, I've been looking all over for it.
-Do you have that thing that Dr. Oz recommended? (Only when we already carry it)
-What smells so good in here? (Everything)
-Does this stuff really work?  (Yes, it does!)
What one lesson would you love the general public to learn about/from herbs?
Taking herbs is not a substitute for taking drugs.  The herbs work differently, often in harmony with changes in your diet and lifestyle.  If you want a quick fix, look elsewhere.  If you want to make a concerted effort to improve your life by working with herbs, we are happy to help you along that path.
Baraka's Community- Featured Herbal Store
West County Herb Company

October 2012
West County Herbs
3641 Main Street Occidental, CA 95465 www.westcountyherb.com Owner: Lisa Kurtz, Herbalist
Located in scenic downtown Occidental, California, the West County Herb Company is a comfortable, community-oriented shop featuring artisan herbal products and wares. We offer an unsurpassed selection of organic, locally-grown and responsibly harvested bulk herbs. The Sonoma County Herb Exchange provides our vital and professionally cared-for herbs. Your teas, tinctures, and salves will positively radiate with potency. This is not your typical bulk herb section.
To assist you in creating your own most magical potions, we also carry medicine making supplies such as glass beakers, graduated cylinders, funnels, bottles and jars. The finest oils, salts and waxes are also available. We welcome you to peruse our shop unbothered while you sip some tea, and come to your senses.Other handcrafted wares include herbal medicines, body care, aromatherapy products, soaps, and candles. We offer products made by the talented herbalists and craftspeople of Northern California. Have a look at our lending library and community bulletin board and feel a part of the plants and the people who love them. Come and experience this impressive apothecary yourself.
Mission Statement
West County Herb Company believes in community and is committed to quality. That is why I carry only products that I feel are made with integrity and care by local artisans who craft their products from the very best ingredients.
What makes you unique in your community?
The thing that makes my shop unique is that I carry only locally grown herbs and locally made products.  I want people to feel comfortable coming in, whether they are experienced herbalists, curious about natural and alternative ways to care for themselves, or just like the way is smells. I have a lending library and lots of in-store reference books, so I invite people to come in, sip some tea and together we can come up with ideas about what to do for their individual concerns.  I really believe that we all know best what we need and I want to provide a space to discover and explore what might make our experience in this body feel better.  I have always learned easiest from nature and particularly the plants, so that is what I hope to share with others.
What are the frequent comments that you hear from your customers?
Some of the frequent comments I get from customers are, "it smells so great in here", "it feels good just to be here", "I didn't know herbs looked like this" (because of the freshness and the whole state that I sell the herbs in, instead of the herbs looking like grey powder, they look vibrant, colorful, and alive.) I love my shop because I get to meet so many people, and in this environment it is easy to see how lovable they are and it cultivates more compassion and love for all of us.
What one lesson would you love the general public to learn about/from herbs?
I learn so much every day here at the shop, it is a vibrant alive place to be and I am so appreciative of the people who come in and share their uniqueness.  I guess that would be the thing I would wish for the general public to learn from herbs, to appreciate and love their uniqueness, adaptability, and that their value lies in being authentically who they are.
Baraka's Community- Featured Herbal Store
Rosemary's Garden
September 2012
Rosemary's Garden

Rosemary's Garden 132 North Main Street Sebastopol, CA 95472 707-829-2539 www.rosemarysgarden.com
In 1972, Rosemary Gladstar founded Rosemary's Garden and since then she has become a world-renown herbalist and educator. Rosemary's Garden has become a trusted provider of herbal products. Our staff and consultants are experts in herbal traditions and the use of medicinal herbs and herbal products for a variety of special needs. We answer thousands of questions every year about the best use of our products. With the help of the internet, we can now provide our products to a wide market and hope you will be happy with what you order. Most of our herbs are organic and all of our tea blends are organic or wildcrafted. While we do not sell wildcrafted herbs that are on an endangered or "at risk" list, we do stock such herbs from organic suppliers. If wildcrafted or organic herbs are not available from our primary suppliers, only then do we offer non-organic herbs from alternate sources.
Mission Statement
As expert herbalists, our goal is to help you Feel Better.
What makes you unique in your community?
We are unique because we have focused on medicinal herbs for almost 40 years and we love what we do, all day, every day.
What are the frequent comments that you hear from your customers?
"It smells so good in here", "This is like a little oasis", "I come to you first", "Do you have something for stress" and on and on and on…
What one lesson would you love the general public to learn about/from herbs?
Herbs have been around and used before modern medicine and many over-the-counter and prescription medications are made to mimic an herb and its efficacy. I find customers to be very brave and proactive in their health-care.
Baraka's Community- Featured Herbal Store
Garden of Eden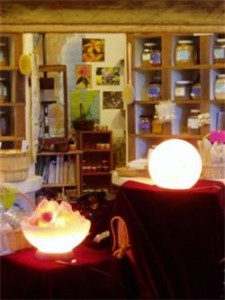 August 2012
Garden of Eden
65 Third Street, Pt. Reyes Station CA 415-663-1747 www.gardenofedenapothecary.com Owner: Eden Clearbrook, Herbalist  
Since 1997 Garden of Eden has been vital addition to the Northern California area supplying high quality botanicals and other fine holistic healing goods. Garden of Eden is well known for growing, producing, and sourcing herbs, herbal products and healing adjuncts for wholeness of the Body, Mind and Spirit which excels in quality and efficacy.  It is our passion and life's work to make those available to growing community of herb users and lovers, healing individuals and organizations the world over.
Mission Statement
Garden of Eden's mission is to serve as an introduction and healing bridge that connects people and their healing needs with the Healing Nature of botanicals and the Spiritual Matrix at play in the subtle layers of both.
What makes you unique in your community?
We buy exclusively "ethically wildcrafted" botanicals. We specialize in custom preparation to truly fill your healing and wellness needs.  Personal herbal consultations are available.
What are the frequent comments that you hear from your customers?
Quite a few of these folks only briefly step into the space to tell us, tongue in cheek, "it smells so good in here, you need to bottle it up and sell it!"
What lessons would you love the general public to learn about/from herbs?
Make the intention  to take full responsibility for your herbal healing experience: intend the best and receive the best. Acting so in this instance will carry over into the rest of your life with many ensuing Blessings. Select those that are local, organic and/or Bio-dynamic. Also be patient- herbs are not "silver bullets." Traditionally it is known that herbs work slowly. Like them, let yourself "be grown" allow your trust and faith to develop. Connect with your heart and allow yourself to receive direct guidance and a "live link."
Baraka's Community- Featured Herbal Store
Rebecca's Herbal Apothecary & Supply
October 2011
Rebecca's Herbal Apothecary & Supply
1227 Spruce St.
Boulder, CO 80302
(303) 443-8878
www.rebeccasherbs.com
Owner: Rebecca Luna, Certified Clinical Herbalist
Rebecca's Herbal Apothecary & Supply is a down home shop where herbal medicine is taken back to its roots. Independent, locally owned and operated, Rebecca's has been supplying the Boulder community with botanical medicines, body care products and medicine-making supplies since 2004.
Mission Statement
Rebecca's Apothecary seeks to connect our community with botanical medicine by providing raw materials, education and carefully crafted products. We believe this is a bridge that will empower our community to reclaim their health and our collective environment. As a true Herbal Apothecary, Rebecca's not only provides pre-made botanical remedies, such as tinctures, teas and ointments, they also carry everything you need to make your own botanical medicines or body care products. When you walk in, you are greeted with the beautiful aroma of vibrant, dried herbs. These herbs are the heart of the shop and are sourced with great care. "We focus on quality and we focus on organics."
What makes you unique in your community?

Rebecca's has been voted Best of Boulder for their high quality, handcrafted body care products including bath oils and salts, aromatherapy spritzers, infused organic coconut and olive oils, scented shea butters, luxurious facial products and much more. They have a vast array of herbal texts, including books on aromatherapy, plant identification, ethnobotany, medicinal gardening and more. Rebecca's also carries many hard to find bulk items such as shea and cocoa butter, beeswax, and unique salts and clays. They have a comprehensive selection of pure essential oils as well as many carrier oils. Rebecca's also stocks a large variety of tins, jars, bottles and containers.
What is your role in the community? What knowledge do you encourage your customers to understand?

Rebecca's goal is to empower the community to use herbal products to their full potential to heal their bodies and enhance their lives. Whether you are shopping for yourself or someone else, you can be guaranteed to leave Rebecca's with a smile on your face.
Rebecca's Herbal Apothecary is expanding with a new online store- great way to access wonderful products even if you don't live in Boulder, CO. Check it out here.
Baraka's Community- Featured Herbal Store
Herbal Path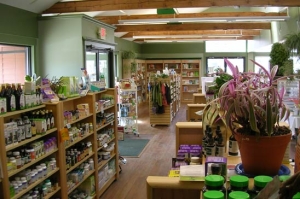 September 2011
Herbal Path
Dover: 839 Central Avenue, Dover NH  603-740-8400 Portsmouth: 1262 Woodbury Ave, Portsmouth NH 603-766-6006
www.herbalpath.com
The Herbal Path is a natural pharmacy specializing in natural remedies and alternatives to prescription drugs. We are conveniently located in two locations on the New Hampshire Seacoast. Ron Stock is a Registered Pharmacist, founder and owner of The Herbal Path. Throughout his 25 plus years of experience in the health field, Ron has always been an innovator and a pioneer, seeking ways to improve patient outcomes, compliance, and helping to educate people to be responsible for their own health and well-being.
Mission Statement
The Herbal Path's mission is to provide a reputable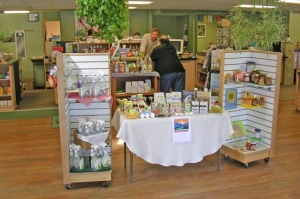 source of information on integrative and alternative health practices while offering high quality, therapeutic natural products. We work with our clients/customers to educate them and guide them towards a healthy lifestyle so they can gain a better sense of well-being and overall improved health.
Although we are staffed with pharmacists and herbalists, unfortunately we are not able to diagnose. We will do our best to assess your situation to see what we can do to help you. If your concern is beyond the scope of our practice, we have a great network of qualified health professionals that would be an appropriate resource for you.
What makes you unique in your community?
Our uniquely trained professional staff is well versed in natural medicines and knowledgeable about herbs, vitamins, minerals, and drug therapy. Since we are knowledgeable of both pharmaceuticals and alternative remedies this enables us to offer the safe integration of traditional and natural therapies.
What is your role in the community? What knowledge do you encourage your customers to understand?
A consultation is a personalized lesson in obtaining and maintaining your optimum health. The Herbal Path takes great pride in educating all of its customers; a knowledgeable customer is our best asset. And equally important is reaching out to medical practitioners to help educate them on alternative medicine. Billions of dollars each year could be saved in health care costs in the USA if we addressed nutritional needs before we moved to drug therapy and surgery. Looking for and treating the cause of dis-ease and dis-function often leads to better patient outcomes than chasing the symptoms with medications.
Baraka's Community- Featured Herbal Store
Meadowsweet Herbs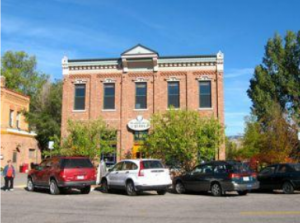 August 2011
Meadowsweet Herbs
180 S. 3rd St W, Missoula, MT 59801 406-728-0543
contact@herbsmt.com
www.Meadowsweet-Herbs.com
Elaine Sheff & John Goicovich, Clinical Herbalists
15 years in business, Offers a variety of classes
Specializes in herbs, aromatherapy, flower essences
Mission Statement
Meadowsweet Herbs is not only a manufacturer and retail store but also a resource for education and a reliable and trusted source for natural product information in our Missoula community. We offer classes and private consultations throughout the year. Our employees are highly trained in the natural health field.
Our vision of our business does not end with our customers. We feel our commitment to our employees and a good work environment is where good medicine and a healthy lifestyle begins. We work hard to maintain a productive, healthy working environment with cooperation and respect at its core.
What makes you unique in your community?
We are herbalist owned and operated, totally unique in our town. We offer a deeper understanding of herbs and a connection to the earth, as well as empowering people to take charge of their own well-being.
What is your favorite item/knowledge to share with customers?
It is more like an experience–of themselves and their own bodies having the tools and strength to heal.
What are the frequent comments that you hear from your customers?
1. This place smells so good!
2. I am so glad you are here in Missoula!
3. This is my favorite store!
Also, our customers continually tell us how much they trust what we offer and love what we do for our community.