Our Mission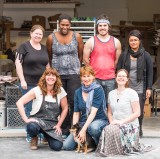 Happiness of Baraka Employees
People often wonder why customers don't occupy the first spot on our mission statement, but let's face it, happy employees make awesome products and are inspired to do their best. Flexible schedules, creative play and employee incentives make us uniquely different. A big thank you to Stephani, Star, Maria, Jolene, Matt…and Sweets, our shop dog! We have had many people over the years contribute to Baraka's success and we hold each of them in our hearts!
Meet the Baraka crew!
Happiness of Baraka Customers
Without you loving our products, we wouldn't be inspired to create. Over the years, your feedback has helped us know what's working and what isn't. Your calls have inspired us to make uniquely colored neti pots and explore the various kinds of salts on the planet, not to mention guiding us to check out essential oils. Thank you!!!
Please give us feedback on our products.
Happiness of the Planet
After Oprah introduced nasal rinsing to the world, we had offers from Asian ceramic companies wanting to produce our product. We didn't even have to think about it. We simply thanked them and said no. Ultimately, we make less money keeping our production in northern California, but we all sleep better knowing that every one of our products is sustainably produced, and our employees are paid fair wages.
Read what we're doing be Green.